The Road (aka Partners Till the End)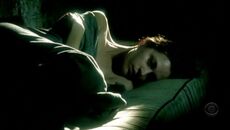 Season : 5
Episode: 15
Directed by: Holly Dale
Written by: Jennifer Johnson
Production Number: {{{production}}}
Airdate: 6 April 2008
Date of Crime: 12 August 2007
Previous: Andy in C Minor
Next: Bad Reputation
External Links
IMDB Site
Description
Blood from a man arrested in West Virginia matches blood found at the scene after a Philadephia woman was abducted from her engagement party in 2007. As Lilly and Scotty drive the man, known only as "John Smith" back to Philly, they soon learn he had abducted other women before, imprisoning them until they give up hope, and then finally letting them die. When they realize his latest victim may still be alive, the ride back becomes a battle of wills as Lilly and Scotty try to force John Smith to give up her location before her time runs out.
Synopsis
August 12, 2007 - During the engagement party of Brenda MacDowell and David Nelson Brenda's car is being called out in the restaurant for having the lights on. When Brenda doesn't return after a while, her fiance goes looking for her and finds her ribbon bouquet splattered with blood in the parking lot.
Present - The Squad is watching a tape of a man calling himself John Smith that has been sent in from a sheriff in West Virginia. He pulled John Smith over only to discover his vehicle was not only stolen but in felony vehicle status as it was seen leaving the restaurant Brenda was abducted from. A DNA test revealed that the blood from the ribbon bouquet is his. Stillman tells his squad they need a body and a confession before John Smith gets to Philly and lawyers up. Lilly volunteers to take the trip and Scotty joins her.
When they arrive in West Virginia, the sheriff tells them John Smith is polite but was going nuts in the cell. John Smith gets personal very quickly, telling Lilly he has never seen a female detective before and that he hopes everyone appreciates what she has given up to get where she is, as well as deducing she is from Kensington from her accent. During the drive Lilly and Scotty begin to question him and he finally reveals how he abducted Brenda.
Flashback - As Brenda is switching off the lights of her car and grabbing a DVD she has left there, John Smith approaches her. He tells her his car won't start, asking if he can use her phone before feigning to recognize her, telling her they ran a marathon together. Claiming to be a paralegal at her firm, he mentions some case she worked on, making Brenda believe his story. She gives him his phone and when she is distracted he sedates her. She fights him but eventually falls unconscious.
Present - Lilly and Scotty ask John Smith about the marathon but he doesn't give anything away. Back in Philly, Will and David Nelson watch footage of the marathon Brenda ran. David tells Will he hadn't noticed anyone suspicious but he only looked at Brenda anyway. The video shows Brenda proposing to David. Will tells him they suspect John Smith stalked Brenda and that they'll have to go through the footage. David continues watching the video which now show Brenda as a little girl learning how to drive bike. Will says to Kat that the ones who don't get bodies never let go.
Kat tells him Vera found the owner of the stolen car. The owner gives them four parking tickets she received since the car got stolen. Suspecting this might have been where he dumped the body, Vera and Kat go around the neighborhood and eventually find a house in Newark John Smith stayed at. In the basement they find a bricked up room with a body in it.
When Lilly gets the call, she tells John Smith they found Brenda in Newark. He gets visibly nervous, asking them to open a window as he can't breathe. Scotty deduces he doesn't like being locked up, asking him if he has spent some time in lock up. John Smith doesn't answer so Lilly directs the interrogation back to Brenda, commenting she was pretty. Smith denies there was anything sexual about keeping Brenda. When Lilly asks him what he was doing with her then for so long, he tells her she has to answer him a question first: What gets her out of the bed every morning? According to him everyone has something that keeps them going. When Lilly asks him what Brenda was holding onto, he answers her that it was love.
Flashback - When Brenda gains consciousness again, she immediately calls for David. She's convinced she'll be found. Smith retorts that while they may be looking for her, no one is looking for him, before pointedly asking how long it'll take until a red mustang stands in David's driveway again. Everyone will tell him to move on, after all. Brenda asks him how he knows what car David's ex-girlfriend is driving. Smith merely tells her the look on her face is just like when she was a child, learning how to bike before leaving.
Present - Lilly reasons Smith must have wanted something from Brenda, musing if he wanted to drive her mad. Smith comments she tried to hang on her sanity by marking the days but that it was senseless. Lilly and Scotty stop at the road in order to talk as they wonder about how she could have marked her days since the room in the basement was windowless. They also call the others, telling them about Smith's comments about Brenda as a child.
Realizing Smith must have seen that video featuring Brenda's marathon and biking lessons as child, Will and Nick ask David about it. As it turns out, they video was made by some editing company Brenda hired. They find out John Smith used to worked at this company as editor but quit recently. They also find out he had four previous employers since 2002 - all editing companies in four different cities. Each time, a client from his job matches a missing woman from the same year. Kat comes in, telling them the body from Newark is not Brenda. They conclude that John Smith is a serial killer and that the body from Newark is probably a client from Newark, Colleen Legarth.
In the car Lilly confronts Smith with the fact that the body in Newark wasn't Brenda but he denies having lied: they just assumed. Lilly and Scotty question him about those women, what made Smith choose them. Smith again turns to Lilly, asking her what gets her out of bed every morning, if it is the rush she gets from seeing dead people. Lilly asks what happens to him when he kills and he claims it is the only thing that is real. He adds that if there is the one thing you're holding onto, it takes a special significance and when that is taken away, you're left with nothing, as in the case of Colleen.
Flashback - Colleen is apathetically sitting in her cell when Smith comes in, showing her video of her and her baby. He mentions her daughter might like it there as well before leaving, taking the video with him.
Present - Smith notes they hold onto such fragile things and if these are gone, they just float away. Scotty brings back Brenda, questioning him where her body is - after all, Smith has nothing to lose. Smith refuses as they have talked about Brenda already, but Lilly realizes he hasn't talked about her end, asking him why not. They conclude something must have rattled him. Lily realizes Brenda must still be alive but Smith refuses to talk.
Back in Philly, the squad tries to find Brenda, drawing on Smith's MO with the other victims in order to find his hideout. Kat has watched the video of the victims, finding out the only thing they had in common was that they had something to live for - God, a baby, a fiance.
Lilly thinks Smith was jealous, seeing all the these women had something in their lives, but Smith denies this, telling her these were only illusions to give their lives meaning. Just as, he correctly deduces, her job gives Lilly's life meaning. Lilly tells him she understands what he means, trying to get him to talk. Smith tells her without the job she is nothing, just like these women, even the one who had God, Monica. She was the one who gave up the easiest as she couldn't understand why God would do this to her. He could see the moment she realized there was no God. After she gave up he bricked her in. "Once hope is gone, dying is just a formality," he tells Lilly. He took the door of its hinges before sealing the doorway but she didn't take the opportunity to escape, having given up. Lilly concludes she wasn't looking for a way out of there anymore. When Smith comments this sounds as of she is familiar with this, Scotty flips out, stopping the car, dragging Smith out and starts to kick him, demanding to know where Brenda is. Smith tells him she is in these woods they are driving by. Smith leads them to a well in the woods, but Brenda isn't there. Smith tells Lilly someone else is, though.
Flashback - As a child, Smith is coming across a woman about to drown in the well. She begs him to help her but he only spits at her and she sinks, drowning,
Present - Smith tells them watching a woman give up was the most beautiful thing he ever saw. They demand to know where Brenda is, but Smith tells Lilly she is just playing make-belief. There will always be another Brenda and another him out there. He claims Brenda is dead because she was weak, just like Lilly is. Lilly refuses to believe, convinced Brenda was stronger than that. Smith retorts Lilly needs to believe this but she is wrong. Brenda broke, alone in the dark, just as Lilly will.
Flashback - Smith is just putting in the last brick as Brenda is humming some song.
Present - Smith claims Brenda had given up but Lilly recognizes the song: the ascension church in Kensington plays it every morning. She realizes this is how Brenda knew what day it was and concludes Brenda found something hopeful to cling to. Smith claims Brenda is dead but Lilly knows Brenda hasn't given up as even with everything taken away, she still had herself. As she knows that neighborhood, Lilly leaves to find Brenda, leaving John Smith behind who yells at her not to walk away from her.
Lilly breaks open the wall, finding Brenda alive, Scotty, Will and Vera put John Smith in a cell, Colleen's husband shows his daughter a tape of her mother, Miller packs away the video tapes and sees the ghost of the victims, Brenda and David reunite.
Cast
Main Cast
Guest Cast
Co-Starring
Notes
Music
Opening Song
Alongside Songs
Closing Song
See More Cases
Community content is available under
CC-BY-SA
unless otherwise noted.