The Good-Bye Room (aka 40 Weeks)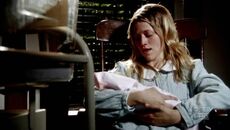 Season : 4
Episode: 16
Directed by: Holly Dale
Written by: Jennifer Johnson
Production Number: 2T7916
Airdate: March 4, 2007
Date of Crime: May 30, 1964
Previous: Blood on the Tracks
Next: Shuffle, Ball Change
External Links
IMDB Site
Description
After discovering she was adopted as a baby, a woman asks Lilly to re-investigate the murder of her birth mother in 1964. Her mother was a teenager sent to a church-run home for unwed mothers before her murder. As Lilly and the detectives investigate, the now-defunct home's dark secrets begin to come out.
Synopsis
Hilary went to live at a church run home, St. Mary's Home For Unwed Mothers, after she was made pregnant by Huck Oberland. Karen, Hilary, and a few other girls from the home were at a music store together when Hilary caught Huck there with another girl named Mary-Lou McLaren. Hilary threatened to tell Huck's parents about the baby herself if he didn't.
Patricia and Sister Margaret had a difficult time trying to convince Hilary to give up the baby, even despite giving Hilary time to think about and make a list of how she could care for the baby.
Sometime later, Karen gave birth to her baby, a boy. Though she had resented him all through the pregnancy, Karen fell in love with him on sight and was heartbroken to have to give him up for adoption with only fifteen minutes to say goodbye. Hilary tried to reassure her that he was going to a wealthy lawyer's family and that he would be well taken care of, Karen only repeated again and again that she wanted him back in his bassinet.
Sometime after Hilary had given birth, Karen caught her take her baby girl out of her bassinet and flee the home. Karen followed her into the woods, where Hilary told her she'd learned that St. Mary's was selling babies, rather than giving them away. Karen, having had to give her own baby, insisted that Hilary had to do the same. Then, in a moment of delusion, she started demanding that Hillary put him and that Hilary couldn't take Karen's baby before finally picking up a rock and hitting Hilary over the head with it. She picked up Hilary's baby and headed back to the home, leaving the fatally injured Hilary to die in the woods.
Karen put Hilary's baby in her son's bassinet, wanting to keep her, but soon realized there was no replacing her baby, and Hilary's baby was soon put up for adoption as well.
Lilly finally told her she'd found Karen's son and that he wanted to meet her, offering Karen this in return for her telling the truth about what happened to Hilary the night of her death.
Though she would be charged for Hilary's murder, Karen could take comfort in known her search for her son was finally over.
Cast
Main Cast
Guest Cast
Co-Starring
Notes
Music
Opening Song
Alongsode Songs
Closing Song
See More Cases
Community content is available under
CC-BY-SA
unless otherwise noted.