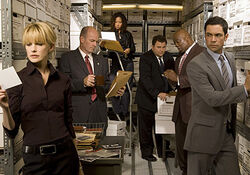 Cold Case Wiki
is a collaborative database about the hit
CBS
TV series
Cold Case
which premiered in 2003. Here, you'll find information on episodes, characters, actors, writers, directors, and all other things
Cold Case
.
BEWARE! This wiki can and does post SPOILERS for episodes.
Anyone can contribute, but PLEASE GET A USER NAME BEFORE EDITING.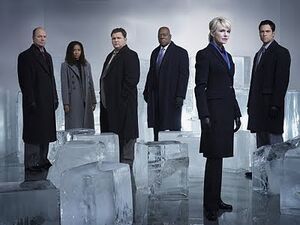 Cold Case
is an American police procedural drama that focuses on investigating murders that have gone unsolved for years, sometimes even decades.
The series revolves around the Philadelphia Police Department's Homicide squad. The detectives reopen the case after new evidence comes up, this might be the victim's body is found, the murder weapon is found, an accused person turned up to be innocent, etc. The detectives would interview witnesses and suspects related with the crime and piece together the story of what led the victims to their death.
Cold Case was created by Meredith Stiehm and produced by Jerry Bruckheimer. It was broadcasted on CBS from September 28, 2003, to May 2, 2010.
"People shouldn't be forgotten, even if they are my kind of people. Maybe they don't have a lot of money, they don't have lawyers but they matter. They should get justice, too." – Lilly Rush (Look Again)

Cold Case - Door of Truth is the Japanese adaptation of Cold Case. It broadcast on WOWOW in Japan. It was screenwritten by Takahisa Zeze and Yoshida Yasuhiro. The series follows Yuri Ishikawa (Yo Yoshida) and her team as they try to crack unsolved cold cases.
Read More
Torn
Lilly and the squad take on their oldest case yet, when they're asked to look into the case of a young woman who was killed in her parents' home in 1919. They discover she'd become involved in the suffragettes' movement, campaigning for votes for women, which put her at odds with the rest of her family.
Read More