Please, don't let our case left unsolved again!
---
| | |
| --- | --- |
| | Can you help us solve this article case? You may help us resolve this case by adding pictures or content, every piece of information helps complete the puzzle and maybe solve the case. Please be a part of Cold Case Wiki and help us create a better article and give justice to the victims. Please feel free to edit it. |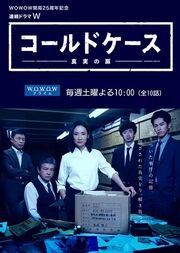 Cold Case - Door of Truth (Kanji: コールドケース ~真実の扉~, Romaji: Korudo Kesu: Shinjitsu no Tobira) is a Japanese adaptation of Cold Case. It broadcast on WOWOW in Japan. It was screenwritten by Takahisa Zeze and Yoshida Yasuhiro. The first season consist on 10 episodes and it aired from October 22, 2016 to December 24, 2016. The second season was aired in 2018, and the third season will be expected to air around the middle or last quarter of 2020.
Plot
Set in Kanagawa Prefecture, Japan, the series follows Yuri Ishikawa (Yo Yoshida) and her team as they try to crack unsolved cold cases.
Cast
Main Cast
Yo Yoshida as Yuri Ishikawa
Kento Nagayama as Shinjiro Takagi
Kenichi Takito as Daisuke Tachikawa
Ken Mitsuishi as Toru "Neko" Kaneko
Tomokazu Miura as Hidetoshi Motoki
Support Cast
Kaoru Hirata as Saya Ishikawa, Yuri's younger sister
Ema Fujisawa as Chika Nakayama, Shinjiro's girlfriend
Episodes
All the episodes are adaptations from the original series.
Season One
Image
Title
Screenplay
Airdate
Date of crime
Based on
N°
"Confined Voice"
閉ざされた声
Yasuhiro Yoshida & Koji Hayashi
October 22, 2016
January 23, 1996
Blank Generation
1
Yuri Ishikawa and the team investigates the murder of Junichi Kudo, a former university student who joined a cult called "Liberty of Hearts" back in 1996. A woman, after being diagnosed with cancer, claims that she saw a car dropping the dead body of the young man. She said she didn't report it back then because she was an illegal immigrant but she wants to do it now before returning to her country.

Featured Songs:

"Namonaki Uta" by Mr. Children
"Born Slippy" by Underworld
"Sweet Dreams (Are Made Of This)" by Marilyn Manson
"Bulls On Parade" by Rage Against the Machine
Closing song: "Don't Look Back In Anger" by Oasis

"Memory"
記憶
Takahisa Zeze
October 29, 2016
May 18, 2015
Fly Away
2
After mother wakes up from a coma, Yuri and the team re-open the case of her 6 year old daughter Kana Higa, who fall along with her mother from the window of her apartment. However, the mother remembers little to nothing about what happened. Yuri and the team must find out what happened that night and who was the person that pushed them to their deaths.

Featured Songs:

"Remedy" by Adele
"Worse Than This" by Zebrahead
Closing song: "Heartache" by ONE OK ROCK

"False Accusation"
冤罪
Takahisa Zeze
November 5, 2016
August 7, 1995
Discretion
3
The team must solve the case of Norito Nishio, a prosecutor who was stabbed to his death, after his assistant blamed him for the embezzlement of public funds worth 7 million yen at the Kobe Public Prosecutor's regional office in 1995. Shinjiro receives disturbing news about his girlfriend.

Featured Songs:

"Rock and Roll Is Dead" by Lenny Kravitz
"Back For Good" by Take That
"High and Dry" by Radiohead
Closing song: "Always" by Bon Jovi

"Orion"
オリオン
Yasuhiro Yoshida
November 12, 2016
June 14, 2004
Mind Hunters
4
The detectives are called to solve the murder of Risa Ogawa, a woman who disappeared in 2004, after her headless body is found in a wildlife preserve. However, when more bodies are found they realize that are in the hunt of a serial killer.

Featured Songs:

"Sakura" by Kyogo Kawaguchi
"Jupiter" by Ayaka Hirahara
"Sakuranbo" by Ai Otsuka
"Take Me Out" by Franz Ferdinand
Closing song: "Behind Blue Eyes" by Limp Bizkit

"Pool"
プール
Yasuhiro Yoshida
November 19, 2016
July 16, 2012
The Plan
5
The team reopens the 2012 case of Kiichi Naito, an strict swim coach who was found drowned in the academy pool, after they received a note suggesting his death was a not accidental.

Featured Songs:

"Lonely Boy" by The Black Keys
Closing song: "Same Mistakes" by One Direction

"Love Letter"
恋文
Takahisa Zeze
November 26, 2016
August 5, 1950
The Letter
6
The team reopens the case of Sujeong Ko, a Korean woman who was murdered in 1950, after her granddaughter brings new evidence. The woman came to Japan after the Jeju Uprising and worked as a prostitute for the allied occupying forces. It was assumed that she was murdered by one her clients but the letters she wrote indicate that she knew the murderer.

Featured Songs:

"Round Midnight" by Thelonious Monk
"What's New" by Stan Getz
"I'm Waiting For You" by Nancy Umeki
Closing song: "The Tennessee Waltz" by Patty Paige

"Classmate's Reunion"
同窓会
Ryuta Horai
December 3, 2016
May 29, 1997
The Sleepover
7
The teams reopens the case of Utako Kishibe, a prep-school girl who was found dead at a reservoir, after a woman is killed with similar markings on her body as Utako. The investigation later reveals that Utako Kishibe was at a sleepover just before she was killed.

Featured Songs:

"Wannabe" by Spice Girls
"Nagisa ni Matsuwaru Et Cetera" by PUFFY
"Lovefool" by The Cardigans
"A Change Would Do You Good" by Sheryl Crow
"I'm Afraid of Americans" by David Bowie
"Go! Go! Heaven" by SPEED
Closing song: "Foolish Games" by Jewel
ミレニアム Millennium
Resolutions
8
On the night of New Year's Eve in 1999, Kashiwara died in a hit-and-run accident. Sixteen years later, a woman who attends a drinking party reveals that she was hit by a drunk driver on a millennium night. Yuri and his colleagues visit Kashiwara's wife, Mayumi, to investigate the connection with the incident, but Mayumi has remarried Kashiwara's best friend Mishima.

Featured Song:
A boxed corpse abandonment case of three children occurs in Kanagawa prefecture. At the direction of Motoki, Yuri and his colleagues decided to re-investigate an unsolved case similar to this one that occurred 46 years ago. Meanwhile, a trunk of unknown sender arrived at the Investigation Division 1, which contained a villa and a photo of an unidentified boy 46 years ago asking for information.
Nine skulls can be found in the yard of a mansion in the suburbs. Yuri, who was suspected of a serial murder two months before the skull, thinks of Akamatsu, who has been released due to lack of evidence and is missing. Also, 30 years ago, it was Akamatsu's mother, Shizuko, who was shot dead in this mansion. A phone call comes in to Yuri who feels that kind of discomfort.
Season 2
Community content is available under
CC-BY-SA
unless otherwise noted.