McCord in 2014
AnnaLyne McCord
Date of Birth
July 16, 1987
Place of Birth
Atlanta, Georgia, U.S.A.
Status
Active
Character played
Becca Abrams (1997) (Episode Stand Up And Holler)
AnnaLynne McCord (born July 16, 1987) is an American actress, activist and model. Known for playing vixen-type roles, McCord first gained prominence in 2007 as the scheming Eden Lord on the FX television series Nip/Tuck, and as the pampered Loren Wakefield on the MyNetworkTV telenovela American Heiress.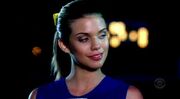 At her teenage year (19 years old to be exact) at the time of the production, McCord portrays the young Becca Abrams in 1997 (while the older version (2007 appearance) was portrayed by Lauren Woodland) in the episode Stand Up and Holler, where she was the one who is responsoble for Rainey Karlsen's death by forcing her to drink a beer containing Liquid X.
Community content is available under
CC-BY-SA
unless otherwise noted.